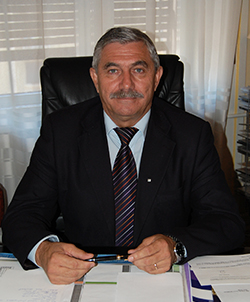 Dear students,
A new academic year begins! With hopes, preoccupations and especially the guaranty that what you learn in our School will be the foundation of what you will be doing in your professional and social career.
In the first place, we give congratulations and wish good luck to the new members of our communities, which, after the admission session of this year, became students at the Polytechnic University of Timisoara!
For our juniors, even if I believe that their choice considers this fact, I want to emphasize that the Polytechnic University of Timisoara is nowadays one of the biggest and most renound universities in Central and South-East Europe. The university is the only university from West and South West of Romania which is classified in the first valoric category, that of the universities which have an advanced research and education.
The Polytechnic University of Timisoara impresses today, after 95 years of existence, by its many amphitheatres and classrooms, modern laboratories, student residences, canteens and student restaurants as well as through its modern sport complexes unequalled in Romania and in the neighbouring countries.
The Polytechnic University, nowadays, at the beginning of the academic year 2016-2017, is expecting you with a new library, founded in the previous academic year, with new didactic and research laboratories, with a new sport complexes and synthetic grass – the most advanced from Romania
The Polytechnic University, nowadays, presents itself with a new system of practice in companies that allow a better gathering of pracitical competences and a good insertion on the labour market.
The Polytechnic Univeristy, nowadays, encourages you, to be prepared all the time, with scholarships for education performances, according special scholarships and awards from own income to those who remark themselves in the research areas and representing the university in different scientific and cultural events or sportive contests.
The Polytechnic University offers you free access to all of the universitary places, research places and on its own sport complexes. Also the students meal is granted with 50% by the UPT restaurants.
In times like these, we believe that, despite all shortcomings and obstacles, the values that have defined our school and its purposes are: liberty, equality, solidarity, multiculturalism, responsibility, professionalism and academic performance, which will be a perpetual example to be followed.
In the same time, our university needs dynamism to adapt to the changes of the world. Therefore, dear students, our thoughts turn towards you.
We strongly believe that you have all the needed qualities, the wish and the will to succeed!!
I wish you an academic year full of accomplishments!
Prof.Phd.Eng. Viorel-Aurel ȘERBAN
Rector of Polytechnic University of Timisoara